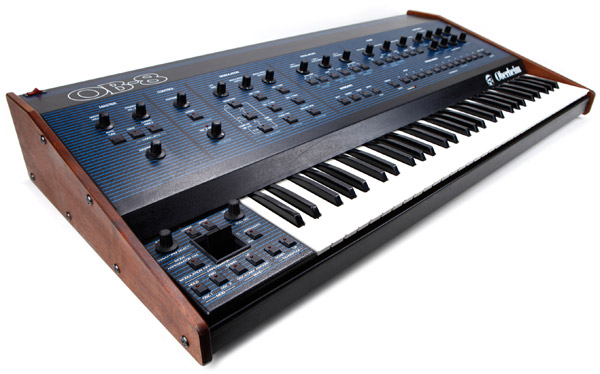 The OB-8 was the last of the classic OB series that included the OB-1, OB-Xa and OB-X. The OB-8 is a very warm and rich sounding eight voice polyphonic synthesizer with that classic Oberheim sound. Because it was released just before MIDI debuted, the OB-8 had no MIDI implementation originally, but some models were retrofitted with 9-channel MIDI implementation. The OB-8 did use Oberheim's very own digital buss system making the OB-8 the center-piece of your OB-studio, allowing it to connect to the DSX polyphonic sequencer, DMX drum machine and other OB-synths. In a time before MIDI, this type of instrument connectivity was truly awesome!
The OB-8 is totally programmable and loaded with powerful analog sounds and style. Dedicated knobs, sliders and a traditional layout make programming a snap and very hands-on. Each individual voice can be de-tuned for a very thick (or weird) sound. Syncable VCOs and a nice 8-note arpeggiator are also on-board on this cool analog synth. It has the OB-Xa's switchable 2 or 4-pole VCF (filter) with ADSR. Tons of LFO modulation controls and effects are possible. The OB-8 also introduced a second layer of programming functions - hit the "Page 2" button and all front panel controls were assigned to an entire second set of parameters! The earliest models did not label these hidden "Page 2" functions on the front panel, but that was rectified on later models.

Up to 120 patches of memory storage were also available to keep your amazing sounds around. And 24 additional patches are available for doubled/layer presets. A full 61-note keyboard with Oberheim's unique pitch/modulation benders only sweetens this synth's deal. It is used by Depeche Mode, Prince (the Artist), The Police, Trent Reznor (NIN), Thompson Twins, Rush, Simple Minds, Jimmy Edgar, Jimmy Jam, KLF, Van Halen, Stevie Nicks, Styx, Future Sound of London, Space, REO Speedwagon Paul McCartney, and The Time.
Demos & Media

Audio Clip 1
A series of samples of various patches.
Specifications
Oscillators -
2 vco's per voice: saw, pulse, triangle
Memory -
120 patch programs, 12 split programs, and 12 double programs; external cassette storage; MIDI SysEx data dump
Filter -
Switchable 2-pole or 4-pole VCF w/ ADSR
LFO -
Triangle, Square, Ramp, Samp+Hold
Keyboard -
61 keys (can be split or doubled); no velocity or aftertouch
Arpeg/Seq -
8-note arpeggiator with external sync source
Control -
MIDI (Channels 1-9) added as a retrofit
Date Produced -
1983 - 1985