Sequential Circuits Fugue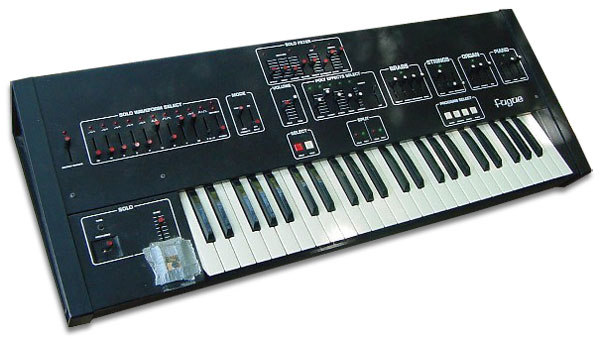 The Fugue is a very rare synthesizer built for Sequential Circuits by Italian Organ maker Siel. In Europe it was known as the Siel Cruise. It was built when Sequential was still a relatively small company and while they wanted to add a compact mono+poly synth to their product-line, they didn't have the resources yet to build one on their own. It is actually two discrete synths in one—a "Poly" String section and a "Mono" analog synth section. There are even two individual outputs for each section on the back. In all actuality, the Fugue is the Siel Mono and Siel Orchestra synthesizers combined into one powerful instrument!
The Poly section has full polyphony, like most of the polyphonic string synths of the era. It is purely a Preset based String/Orchestra machine, with Piano, Strings, Brass and Organ presets. All presets can be combined together for a richer sound with the four push buttons (polyphony is not reduced when combined either). There is also a "Poly Effect" section with a Chorus and VCF (filter) section.
Then there is the Solo/Mono section. It is an independent Mono Synth with a waveform section that includes 10 preset waveforms and 10 variable waveforms. You can edit all 20 of the waveforms/presets to your liking. The sliders provide fast and easy hands-on access to tweaking sounds while performing. The Solo/Mono mode also has its own filter that can self-oscillate, with full VCF Envelope ADSR, Frequency and Resonance sliders. There is a Vibrato slider control for use in the Solo mode. There is also a Priority Left/Right control for the direction of note priority.
The Fugue has many red and green lights for easy operation within the sections...and it looks cool in the dark too. A nice joystick is used for Pitch changes in the Mono synth section. But the true power behind this synthesizer is the split keyboard function which gives you the ability to play chords with your left hand while soloing with your right hand (or vice/versa with a nice sounding bass-line). By layering both sections you can create an interesting sound for solos or for chords with the Mono synth taking priorities for Right or Left notes. And you use a level slider control to split or layer the sections. It's a fun synth that can easily create that classic disco-70's sound.
Demos & Media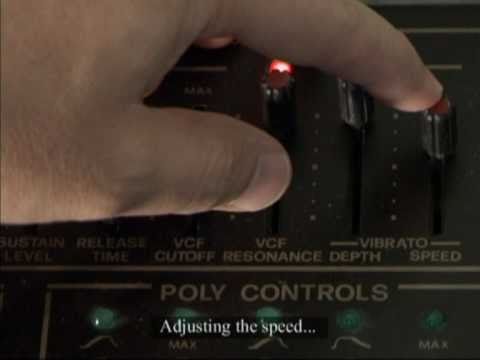 This is a demo of the Siel Cruise, the European version of the Fugue.
Specifications
Polyphony -
Poly: 49 voices; Mono: 1 voice
LFO -
Vibrato (sine wave based with rate, depth controls); Animator (speed)
Filter -
Mono: VCF with cutoff, resonance.
Poly: Brass cutoff, resonance
Keyboard -
49 keys, can be split in the middle
Memory -
Presets: Piano 1, Clavi, Piano 2, Cello, Violin, Percussion, Brass1, Brass2, Resonance, Swell, Organ 1, Organ 2, and Pipe Organ
Control -
Volume and Expression pedal inputs. No CV/Gate.
Date Produced -
1981 - 1985