E-mu MP-7 Command Station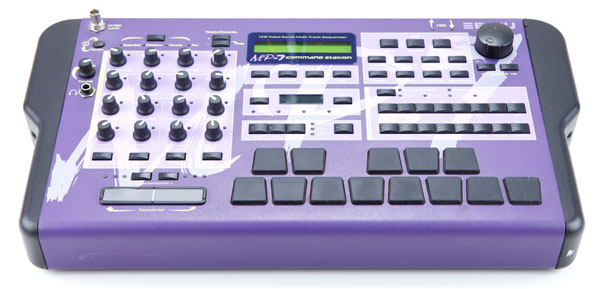 The cool looking MP-7 is a desktop sequencer module version of E-mu's Mo'Phatt HipHop and R&B sound module. You may recall that the Mo'Phatt module itself was a new and improved Urban Dance and Hip Hop synth based on the popular Planet Phatt module. Like the Mo'Phatt, the MP-7 uses the same sample-playback synthesis engine as E-mu's Proteus 2000 sound module. The MP-7 and all its Urban sounds and beats can also been found in a sleek keyboard version called the MK-6 Mo'Phatt Keys.
Sharing its sounds and specs with the Mo'Phatt, the MP-7 has 128 voices of polyphony like the Turbo Phatt. It ships with one 32 MB ROM soundset, called "Pure Phatt" and it is full of brand new and classic Hip Hop type sounds, from basses and synths to drum kits, scratches, vinyl effects and more! The MP-7 has 3 additional slots for adding more, up to 128 MB, of E-mu's 32 MB ROM soundsets from E-mu's family of genre based sound modules, keyboards, and desktop groove machines.
What sets the MP-7 (and the XL-7 Techno/Dance version as well) apart from its sound-module and keyboard versions is its built-in MPC-style sequencer. If you find the rack-mount sound modules too constricting to work with, and don't have room for another 61-note keyboard, the desktop sequencing all-in-one Command Station may be what you need. There are 13 large velocity and aftertouch sensitive pads which can be used to play notes, chords or drop in drum sounds. Sequences can be recorded in real-time, step input, or grid-styled classic TR drum-machine style programming. Patterns can be up to 32 bars long each, there is quantization, overdubbing features, and synth parameters can be automated in pattern and song modes.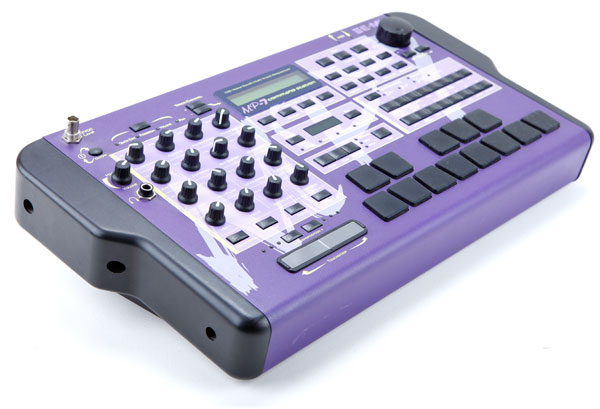 There are 16 front panel real-time controllers for automating parameters in your tracks, or just for easy hands-on access to programming your sounds. Mute/Enable Track buttons allow you to add or remove patterns on the fly. The sequencer has full-blown MIDI implementation as well, supporting up to 32 MIDI channels. Use the MP-7 as a sound module or sync it up to other MIDI equipment. You can control its built-in sounds and external devices simultaneously! Many rhythmic synth parameters (LFO, envelopes) are Tempo/MIDI syncable too. There's even a cool real-time assignable touch strip ribbon controller. Unfortunately, the sequencer stores up to 1024 patterns and 512 songs.
Other great features it shares with its sister sound modules and keyboard versions include 32 simultaneously available arpeggiators with all the basic patterns plus up to 300 preset and user patterns! Two effects processors offer up the standard batch of reverb, delay, chorus, flange and distortion, and there are also digital 12 pole resonant filters. There are six outputs and a digital S/PDIF output, USB port, and a new BNC 12V lamp socket for lighting up the unit while using it on stage or alongside the DJ's turntables! On the stage or in the studio, Mo'Phatt has been the professional's choice for Hip Hop sounds and beats. Now the MP-7 gives musicians and DJs alike an MPC-style take on working with the proven sounds of E-mu's genre based Urban synths!
Current E-mu sound modules ship with one 32 MB sound-set each, but are expandable up to 128 MB via three additional slots for 32 MB expansion cards. These cards include (ranging from $249 to $395):
9061: Siedlaczek Orchestra 32 MB ROM.
9063: Beat Garden 32 MB ROM - standard in Orbit 3.
9082: Protozoa 16 MB ROM - standard in Proteus 1, 2, 3.
9083: Definitive B-3 32 MB ROM - standard in B-3.
9084: Techno Synth Construction Yard 32 MB ROM - standard in Orbit 3.
9085: Orchestral Session Vol. 1 32 MB ROM - standard in Virtuoso 2000.
9086: Orchestral Session Vol. 2 32 MB ROM - standard in Virtuoso 2000.
9087: World Expedition 32 MB ROM - standard in Planet Earth.
9088: Sounds of the ZR featuring the Perfect Piano 32 MB ROM - standard in Ensoniq Halo.
9089: X-Lead 32 MB ROM - standard in Xtreme Lead-1, XL-7 and XK-6.
With these expansion options, you could buy a PK-6, then add the sounds of the Orbit 3, XK-6, and the MP-7... or any other combinations you may want. If you like desktop synths, you can start with an MP-7 or XL-7, and then add these same expansion card options to add Proteus, Orchestral, or the new Halo sounds to them. E-mu/Ensoniq's interchangeable sound cards and a variety of keyboard/sound-module options means that there's a model out there for everybody now.
Demos & Media
Audio Clip 1
Demo tracks. From Future Music CD issue 106.
Specifications
Oscillators -
32 MB "Pure Phatt" Hop soundset (expandable to 128 MB via 3 additional ROM expansion slots), Sample-Playback with Z-Plane filters
Effects -
24-bit dual stereo-effects processor with 29 reverbs types, 15 delay types, 8 chorus types, 7 flange types, 5 distortion types
Filter -
50 types of 6th- and 12th-order Z-plane filters
Arpeg/Seq -
Sequencer: 16 tracks, 1024 patterns (up to 32 bars each); 512 songs; 300,000 note capacity; 384 ppqn resolution
Arpeggiator: 32 Simultaneously available arpeggiators with up, down, up/down, forward assignable, backward assignable, forward/backward, random, 200 preset patterns, 100 user patterns
Keyboard -
13 velocity and aftertouch sensitive pads
Memory -
512 ROM, 512 user
Control -
MIDI IN/OUT/THRU (32 channels); Import/Export Standard MIDI File Type 0 and Type 1; USB port