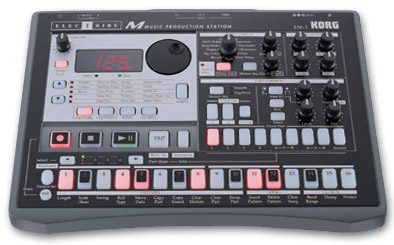 The ElecTribe EM-1 Music Production System is another great ElecTribe series instrument with two synth-parts and eight drum-parts. Sort of combining the elements of the original ElecTribe EA-1 and ER-1, the new EM-1 is an all-in-one groove and dance music machine for DJs and musicians alike!
The EM-1 has loads of drum sounds, all of which are excellent for dance music. There are 144 different sounds, and patterns can have up to eight drum parts. Parts can be muted and individually processed, live and in realtime. The synth sounds consist of 50 waveforms and a pattern can hold up to two synth parts. Waveform editing includes volume, panning, envelope, filtering, roll-effect, internal effects processing, pitch, and glide (portamento). The filter is only a 12 dB/oct low-pass with cutoff and resonance controls which is a little thin, but it still gets the point across.
Naturally, the EM-1 features an advanced built-in sequencer with multi-effects for complete Music Production features. The sequencer holds up to 256 patterns and 16 songs. It ships with 192 of them full of cool dance programs to get you going. Sequencing is done in step or real time using the 16 pads which represent 16th notes of a 1-bar pattern. Patterns can be up to 64-steps (4-bars) long. Built-in effects consist of two processors, a Master (global) Delay and one of 11 Insert Effects. The insert effects include Reverb, Flanger/Chorus, Phaser, Ring modulator, Pitch shifter, Compressor, Distortion, Decimator, Resonator, and Modulation Delay. The Motion Sequencer functions can record movements of the EM-1's knobs in realtime and store them with your Patterns to add rhythmic effects, filter sweeps, and evolving synth or effect changes.
The EM-1 is certainly a cool dance music production system! On the Professional level, its two-voices of synth parts is very slim pickings. On the other hand, it can offer Pro-DJ's incredible performance potential! For example, you can store up to 64 patterns to the step keys for realtime pattern recall. Combine that with realtime part muting/soloing, and realtime filtering, tweaking and effecting, tap-tempo or MIDI clock sync for an excellent groove machine! Although there are far fewer hands-on knobs than on the Yamaha AN-200 and DX-200, the EM-1 is less expensive and offers a great nag for its buck! It has been used by The Prodigy.
Demos & Media
Korg Electribe EM1 (Analog techno / minimal / synth /Industrial demo)
Audio Clip 1
Here are two demo sequences from the EM-1. You can hear how even with only two voices of synth sounds, the built-in effects really thicken it up. And the drum sounds complete the groove!
Specifications
Polyphony -
2 voices (synth), 8 voices (drums)
Waveforms -
50 synthesizer waveforms, 144 drum waveforms
Memory -
256 patterns, 16 songs
Filter -
1 VCF resonant low pass with external inputs
Effects -
Master Effect: Tempo Delay; Insert Effects: 11 Types (Reverb, Flanger/Chorus, Phaser, Ring modulator, Pitch shifter, Compressor, Distortion, Decimator, Resonator, Modulation delay)
Keyboard -
None (16 touch pads)
Arpeg/Seq -
Pattern: 64 steps, motion sequence (drum parts = 2 systems, synthesizer parts = 3 systems); Song: 256 patterns per song, 35,700 events; Motion Sequences: 2 per drum part, 3 per synth part, 1 per Insert effect and 1 per Master Delay.
Control -
MIDI IN/OUT/THRU (2 synth parts, 8 drum parts)